A man's desire to teach his child prompts him to develop a new style of serving fish. Often featuring motifs of girls in skirts and with long hair, the artist's dishes have attracted substantial attention through social media.


Pleasing to the Eye and the Palate
Many would argue that sashimi is the best way to enjoy fish. A plate of thinly sliced seafood at its very freshest is an experience that stirs the souls of many restaurant goers.

The popularity of sashimi art has recently seen a surge in popularity thanks to the social media application Instagram. Users have flocked to accounts featuring photos of raw fish delicately arranged into artwork. Check out these culinary creations that are turning the notion of sashimi upside down!
Mermaid
Arranged from Japanese sea bream, this piece depicts a beautiful maiden of the sea. Using the thicker cuts of fish to create the mermaid's hair, thinner areas also accentuate the subtle qualities of the fillet. The two crabs in the lower left and the shoal of white fish at lower right were carved from a single radish. The dish also features a coral reef created from cucumber, seaweed, and orange bell pepper.

The culinary artist, going by the handle of mikyoui00, has posted over 220 photos to his Instagram account, the majority being of his sashimi creations.

The feedback he has received on social media has been astonishing. Huge numbers of people have liked the photos, and he regularly receives comments along the lines of: "I can't believe you can make something so beautiful from sashimi . . . This is so amazing, it actually made me squeal out loud." "Your artistic sense is truly captivating," writes another commenter, and still another asks to be trained by the master himself: "Please take me under your wing!"

At a glance, one would think the account belonged to some world-famous chef, but mikyoui00 claims to be an amateur who cooks at home. The account's first several photos show more traditional sashimi arrangements, such as sugata-zukuri (slices arranged in the whole fish) and usu-zukuri (slices cut so thinly as to be translucent).

The arrangements gradually start shifting more toward images created by the amateur chef in the medium of fish, using the usuzukuri slicing method to create cranes and doves. This past June, he posted his first image of sashimi arranged to depict a person, a bride in a wedding gown, accentuated with the faint pink of higesoridai, barbeled grunt. Since then, mikyoui00 has continued to post images of human figures, along with animals from goldfish to flamingos, made from fish.

While all of his creations simply look too beautiful to eat, one dish in particular had an especially large impact among fans of sashimi art.


Tanabata Reunion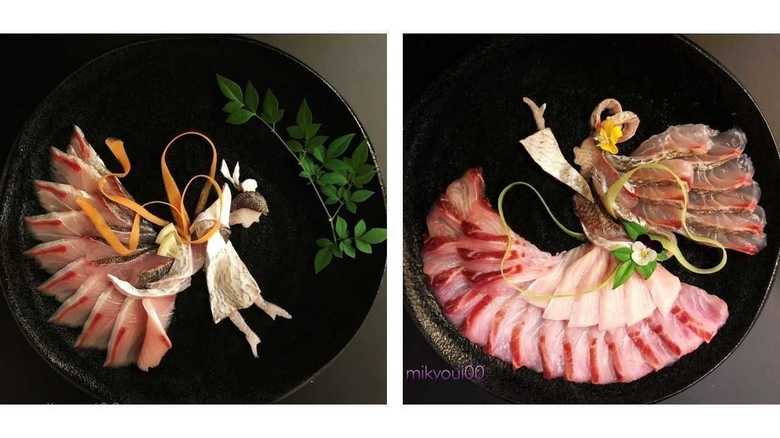 この記事の画像(6枚)
On June 26, mikyoui00 posted a photo of a dish depicting the deity Orihime, heroine of the Japanese summer festival Tanabata, made from silver sea bream, young yellowtail, and barbeled grunt. He used the pattern of the fish's flesh to create the illusion of the maiden's hair fluttering in the wind and the pattern of her kimono. Two days later, the other protagonist of the Tanabata festival, Hikoboshi, created from threeline grunt, silver sea bream, young yellowtail, and chicken grunt appeared alongside his beloved partner, extending his hand to reach out to the maiden's.

Then, on July 1, a week before Tanabata traditionally starts, mikyoui00 posted a photo of the two lovers finally reunited on top of a black plate, along with a comment stating that the two celestial beings met a little earlier than usual this year (Tanabata traditionally falls on July 7). The three works signify more than just an attempt to create representations of objects, people, and animals; mikyoui00 at this point is crafting narratives that span the course of several nights' suppers.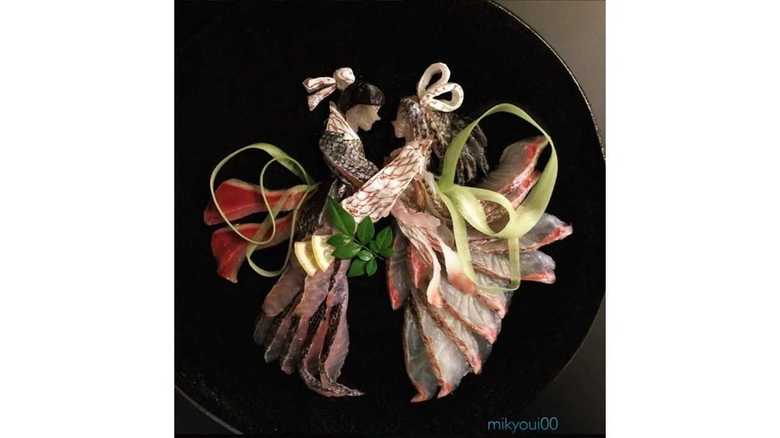 Getting into Sashimi Art
The creator mikyoui00 continues to amaze his social media audience, coming up with new, interesting creations. The self-proclaimed amateur could even be argued to be the progenitor of sashimi art as a whole.

Surprisingly, he has a relatively short history of making sashimi. "My job has nothing to do with art or design. I really started working with fish during the summer of last year. I wanted to teach my son about how to slice and prepare sashimi, and over the course of teaching him, I ended up really getting into it myself."

In terms of slicing, he says, he mostly learned his technique from videos on YouTube or other places around the net. Instagram is home to many professional chefs' accounts, so he also came to try his hand at reproducing the dishes they showed off in their photos and videos at home.

His interest blossomed into full-blown sashimi art beginning in July 2017, when he started posting photos of sugata-zukuri arrangements. "There wasn't much of a reaction at first," he says. "So I tried tsuru-zukuri, which uses thin slices of fish to create the illusion of a crane's wings—but I put my own little spin on it. In trying to get a bigger reaction from social media, I ended up creating sashimi art."

Every time he looks back at his old creations, he can't help but criticize his technique. "I should have made the person's forearm a little thinner . . . That wasn't a great cut . . ." One of his favorites, though, is of a dancing girl from the opera Carmen.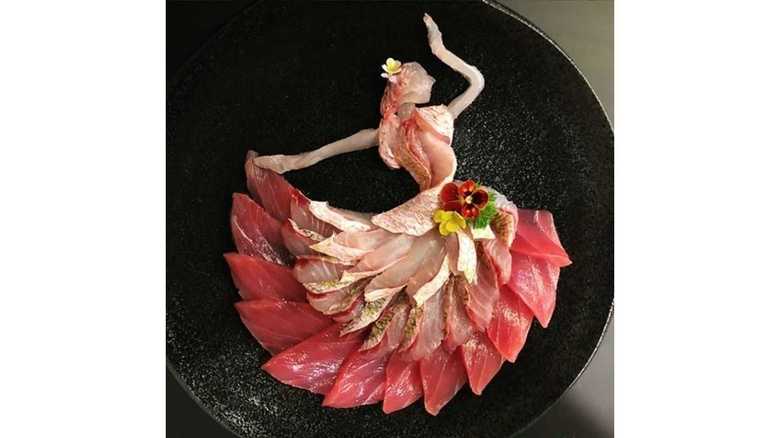 The girl and the top of her dress are made from black striped snapper, while the deep red of her dress hem was created from southern bluefin tuna. The sway of the girl's gown, her arched back, and the movement of her hands all make for a piece full of liveliness.

Why do so many of his pieces feature the motif of women? "If I create an arrangement that's really cute or 'girly,' it makes my son blush, so it's just kind of fun to tease him a little like that," he laughs. "At this point, though, it's just easier to arrange the fish in shapes like skirts and long hair, which lends itself to a lot of female imagery. Most of my ideas for new arrangements are seasonal and come from things I see on TV or the Internet."


Art You Can Eat
Some of his creations are ready in no time at all, but others are multiple-day affairs. Something comparatively easy like a butterfly arrangement can be ready in 5 to 10 minutes, he says, after he has finished cutting. "After you've sliced the fish, letting the meat breathe will help bring out its savoriness, so over that period I'll try to think up new ways of arranging it. Sometimes that can take up to three days or longer."

Regarding ingredients, he claims to be very particular about using local products so that everything is as fresh as can be. "I try to buy as much as I can from Ehime Prefecture," he says. "I get most of my ingredients from the nearby supermarket, but sometimes I catch the fish myself. I either buy the edible flowers I use for fishing directly from producers or grow them myself in our garden."

When it comes to preparation and slicing, mikyoui00 states that it's most important to keep your knives nice and sharp. "When I'm creating arrangements that feature tiny, delicate movements, I use fine-tapered chopsticks to place the ingredients on the plate. If you take too much time preparing something, the fish can lose its flavor, so I try to arrange everything as quickly as possible."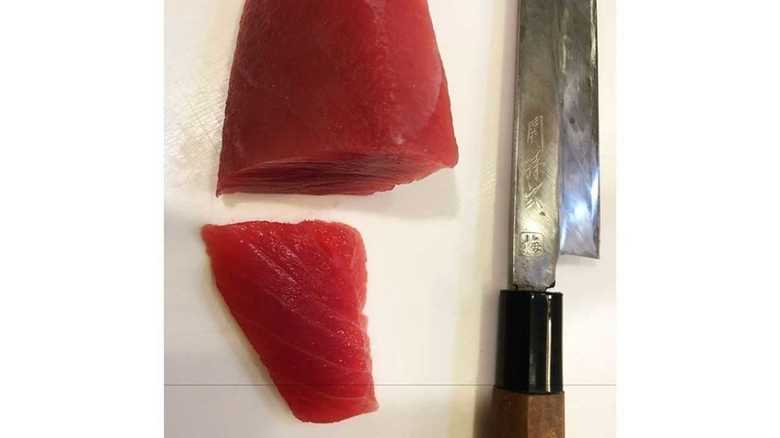 While one may feel a tinge of sadness eating such a beautiful creation, mikyoui00 says his family digs right in: "They just dip it in some soy sauce and it's gone. We roast the bits with skin and use it for shabu shabu, too."

For his next challenge, the amateur sashimi artist says he would like to try his hand at fish you wouldn't normally associate with sashimi. As for the arrangement, he says she wants to try creating the famous pop culture icon of a Gundam. This will certainly prove a hit with his son, still in elementary school, and it will be interesting to see how he recreates such a complicated subject. Check out mikyoui00 on Instagram to see his latest sashimi creations. Like the artist himself, maybe his forays into culinary craftwork will inspire you to try this delicious form of art yourself.


(Originally broadcast in Japanese on FNN's Prime Online on July 18, 2018. )

Click here to view this story in Japanese.