A More Personalized Style of Grave
Mid-August marks the season of Obon, a Buddhist custom wherein people travel to the cemetery where their ancestor's remains reside and clean the family gravestone. The custom has evolved into something akin to a family reunion, as many people will travel back to their hometowns to spend time with parents, grandparents, siblings, and other relatives. Though Obon has been practiced for centuries, recent attitudes toward funerals are causing changes in burial culture.

These include physical changes to the shape of the graves themselves. Tanaka Yasuo, president of Tanaka Sekizaiten, a company in Ichikawa, Chiba Prefecture, that sells tombstones, states that currently around 80% of all graves in Japan can be classified as being Japanese in design. The remaining 20% of graves are more Western-inspired.

However, recent trends in what kinds of gravestones are being ordered are just the opposite; Tanaka revealed that of the orders his company now receives, 80% of people are ordering Western-style gravestones, with the rest being Japanese-style.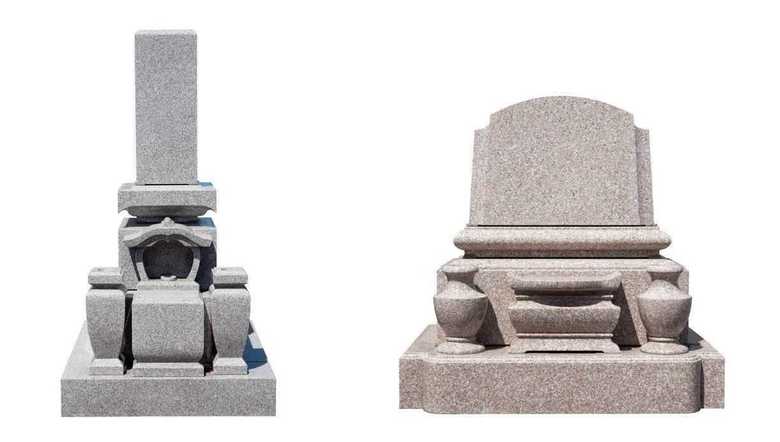 この記事の画像(6枚)
One reason behind the rising popularity of Western-style tombstones could be due to their shorter stature compared to their Japanese counterparts. Their smaller size means that there is a smaller chance of them being damaged or broken when natural disaster strikes, something that proved to be a significant problem for many cemeteries in the wake of the 2011 Tōhoku earthquake and tsunami.

Other variants on tombstones have also recently begun to emerge. Neither Japanese nor Western in design, those looking to customize their final resting place have begun to opt for "designer graves."

Ōnoya, a business specializing in providing different kinds of graves and memorial pieces, says that one in every four orders it receives are for designer graves.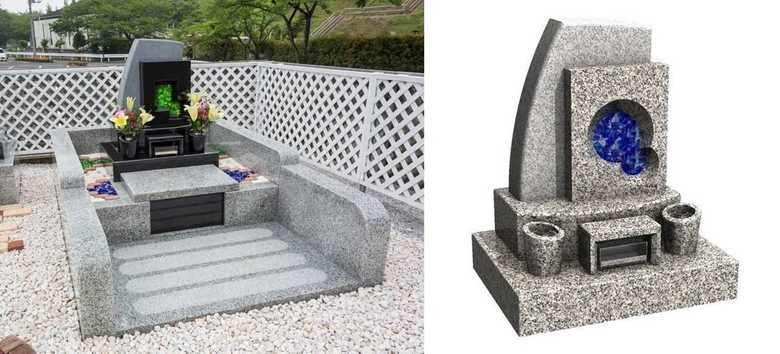 Most appealing about these types of tombstones is that they can be constructed from several different kinds of materials and that they offer more freedom in terms of design, allowing mementos, photos, or other keepsakes of the deceased to be included in the grave. Thanks to these new options, the number of people designing their own graves while still alive is on the rise.

The practice of making all the various preparations for the final stage of one's life has come into vogue recently, and dictating what kind of monument one wishes to have in death is another aspect that has seen a rise in popularity.

Designer gravestones have even started a trend toward adding functionality to one's final resting place. One tombstone offered by the company Ishi No Koe in its "Cherish" series includes the option to add a scannable QR code to the grave itself.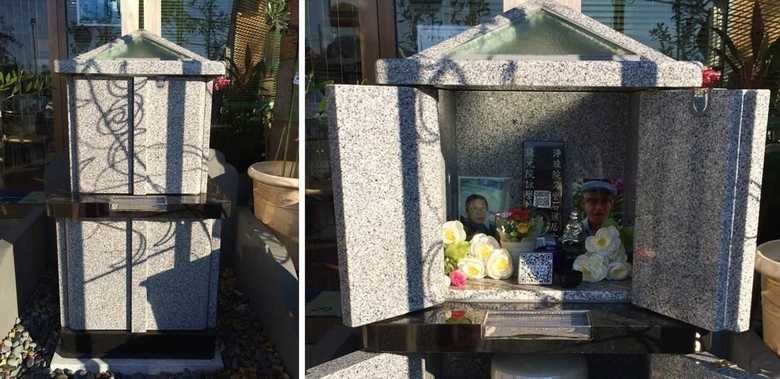 Scanning the QR code reveals information that the deceased registered to the website before passing away. As the portion of the grave that houses the QR code requires a key to be opened, the bereaved need not worry about identity theft. With the photos and other information available directly from the grave, descendants who were never able to meet their ancestor in the flesh now have the chance to learn about their deceased family members.


Lack of Successors Leads to Dismantling Family Tombs
Though the number of different kinds of tombstones on offer is on the rise, compounding factors such as a declining birth rate have also caused problems in terms of who will take over maintaining the family grave. With many graves likely to be dismantled in the future, new options for enshrining deceased family members such as rental tombs and at-home tombs are starting to appear.

As the name suggests, rental tombs are a gravestone rental service that typically offer limited-time enshrinements for a set number of years. This kind of service offers solutions to people who move across the country because of work or want to dismantle the family gravesite but still want to maintain some sort of substitute location. Another point in the rental grave's favor is that other than upkeep fees, there is no need to purchase an expensive gravestone.

Aside from rental tombs, Ishi No Koe has come up with its own solution to this problem: small in-home graves. In-home graves feature no actual burial, but rather enshrine the remains of deceased family members in a small reliquary one can keep at home. These kinds of options allow for more flexibility on the part of the bereaved, such as having a deceased relative's remains housed at a rental shrine for a set period of time before moving the remains to an at-home grave. Other options include moving the remains to a group interment facility at a cemetery or funeral parlor after housing them at home for a time, or "vaporization," a service in which the deceased person's ashes are ground so finely that they can be scattered directly into the atmosphere.

Recent additions to the Japanese language include words like meru-tomo, short for mēru tomodachi (email friends), meaning people often in touch online, and mama-tomo, mothers with children at the same school who engage socially with one another. Now the concept of haka-tomo, or "grave buddies," has also started to catch on. As the name suggests, haka-tomo are those who opt to share a grave with friends, covering the expense of the grave together. Businesses that visit nursing homes and other elderly housing communities in search of people who would like to be buried together have appeared, and there are now even clubs wherein these haka-tomo can deepen their friendship and understanding of each other before they pass away and are enshrined together. While the custom of being buried alongside family members and relatives has been present in Japan since antiquity, this is the first time that the concept has expanded outside of the realm of family.

Burial services that involve no physical grave have also begun to appear. These services include what have come to be known as virtual graves and Internet cemeteries.

Services were previously available that would stream video of a relative's grave or mausoleum using a webcam so that family members could "visit" graves without actually making the journey to the site itself. But these new types
Ashes in Space
With more and more people choosing to dismantle graves, some are choosing to scatter the ashes of their loved ones. One more option that has recently been made available is to send a loved one's remains into outer space.

Ginga Stage, a company offering different kinds of plans for scattering remains, now offers outer-space funerals to its customers. The remains of the deceased are turned into a powder, loaded onto a rocket, and sent off into the great unknown.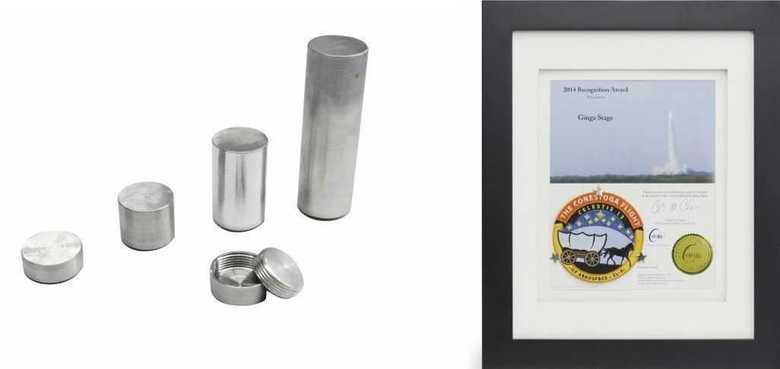 In the standard outer-space funeral plan, a portion of the remains is packed into a capsule that is then loaded into a rocket. After reaching outer space, the capsules fall gradually back to Earth, where they are completely incinerated while re-entering the atmosphere. Offering the deceased "one final trip into the vast expanses of space, even if just for a short while," these funerals plans have sent up the remains of five people on two rockets since the service was first offered in 2014. There are currently 25 more people who are awaiting blast-off. While very few Japanese have opted to have their earthly remains shot into space, over 1,200 people worldwide have opted to send their remains out into the final frontier.

In terms of price, the standard outer-space plan, which sends 1 gram of the deceased person's ashes into space, costs ¥450,000. Those opting for the "space exploration plan," which flings the capsule out of the reach of Earth's gravity entirely, will need to shell out ¥2.5 million for their remains to travel farther out among the stars.

According to a memorial planner at Ginga Stage, the number of people choosing to have their final resting place be somewhere other than a standard grave has increased dramatically. The company hopes that in the future it will be able to use Japanese rockets launched domestically, giving more customers direct access to spectacular send-offs.

There are all sorts of options available nowadays for people considering their final resting place, giving the deceased a final journey befitting their personality or allowing the bereaved to maintain a close connection to their family members even after death.


(Originally broadcast in Japanese on FNN Prime on August 13, 2018.)

Click here to view this story in Japanese.