Seattle, New York, Shanghai, Milan, and Now Tokyo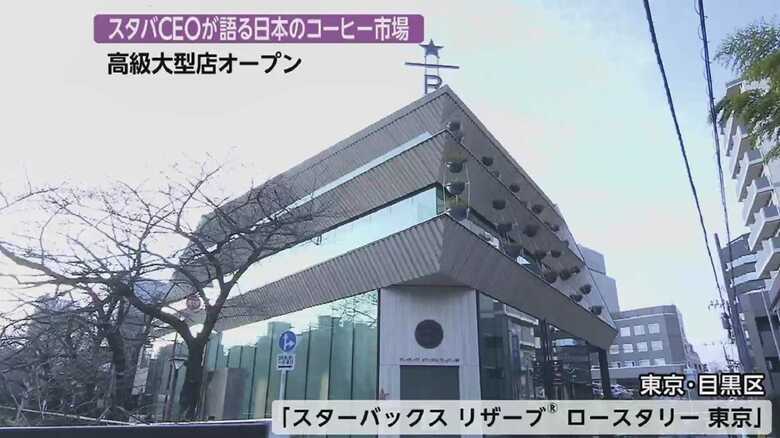 この記事の画像(10枚)
Starbucks opened its fifth Reserve Roastery, the largest such outlet worldwide, on February 28 in the upscale Nakameguro district of Tokyo.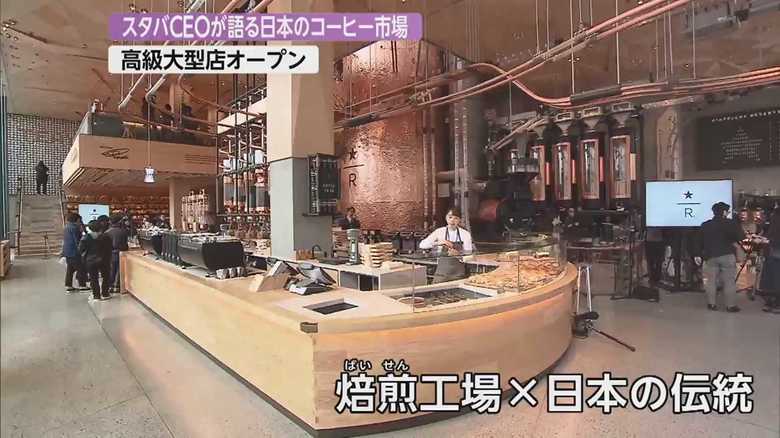 Starbucks CEO Kevin Johnson flew to Japan for the event. Talking to reporters, he stressed the importance of the Japanese market for the company. "Our customers in Japan appreciate craftsmanship and hand-crafted beverages. We've tried to bring that to life in a very elevated way here in the Starbucks Reserve Roastery in Tokyo."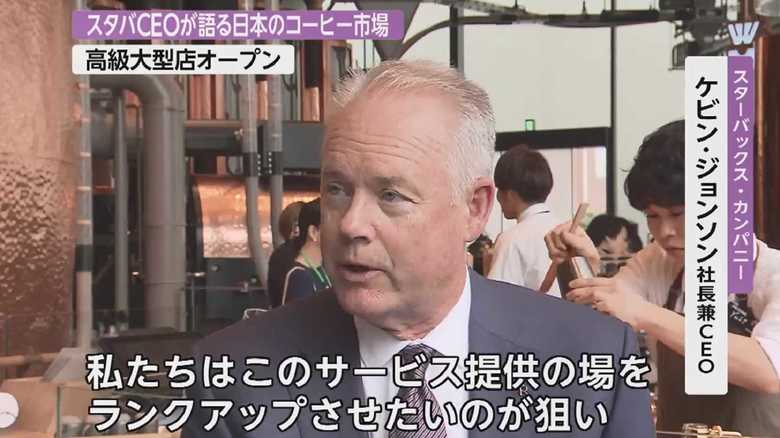 The centerpiece of the store is a 17-meter-high roaster and its series of "symphony pipes" that transport coffee beans around to the different parts of the shop. Designers have added a touch of Japanese flavor to the outlet by including cherry blossom designs on the roaster and origami motifs on the ceiling.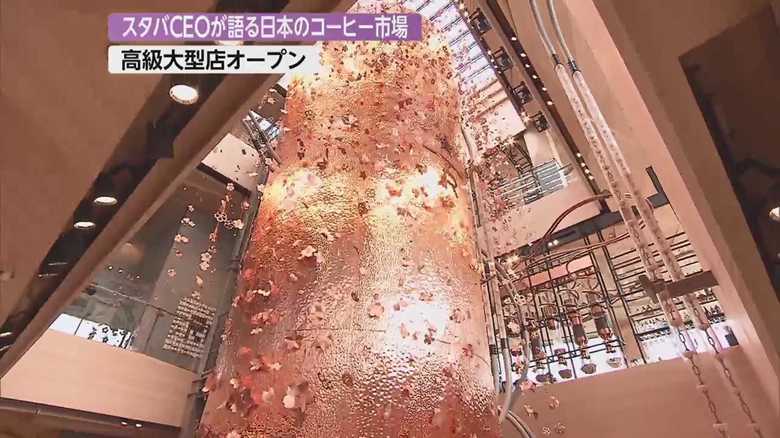 Freshly Roasted
The roastery offers a wide selection of rare beans that are ground and roasted on site, sending enticing aromas drifting through the store. The mammoth coffee shop offers one of Starbucks' top coffees, the Gravitas Blend, which is only available at the company's roasteries. Prepared by baristas using the siphon brewing method, a single cup costs ¥1,060.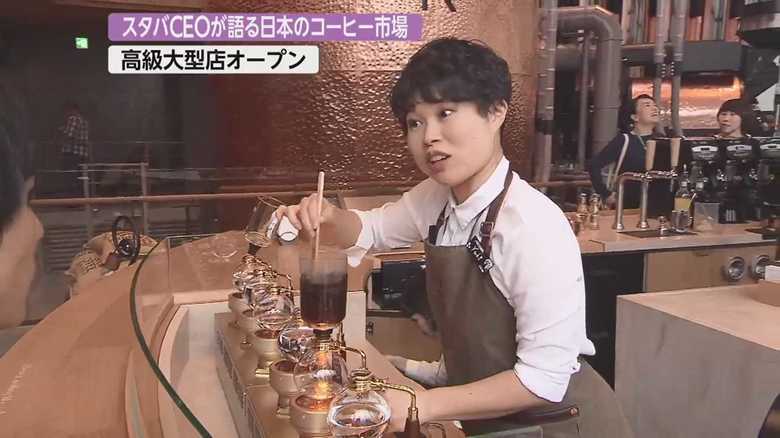 Fuji Television presenter Adake Kōki describes the blend as having a "deep, gentle aroma" and "delicate, intricate flavor."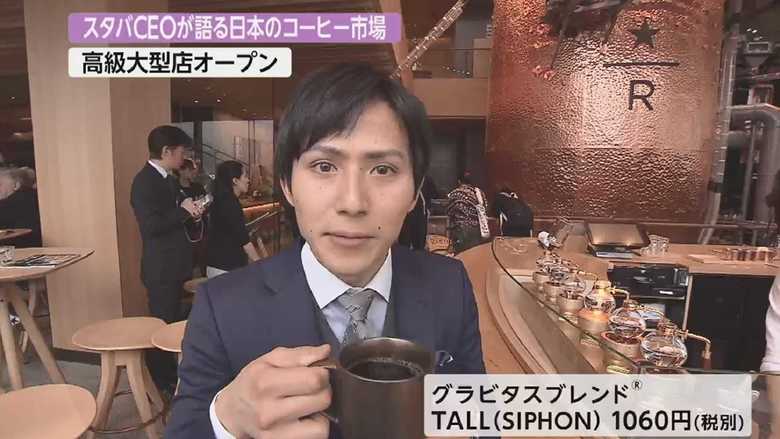 Specialty blend coffee is not the only pricey item on the menu. The shop also has a bar that offers espresso martinis for ¥2,000, a significant outlay but one that Starbucks certainly feels customers will find worth the price.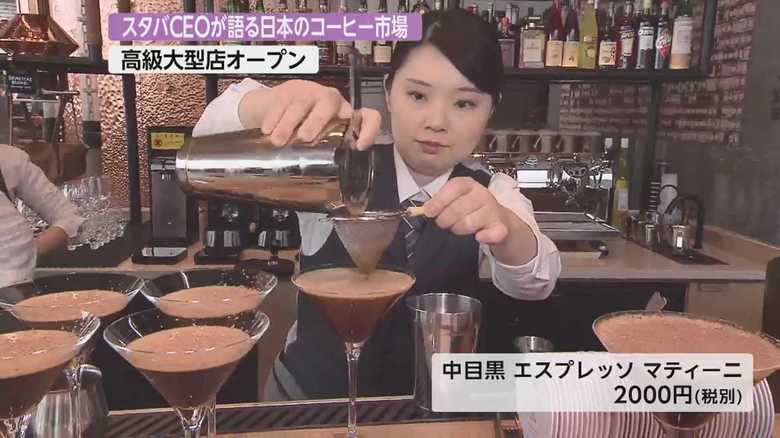 Standing Out in a Crowded Market
Johnson says that Starbucks chose Tokyo for its fifth roastery due to its global status, stressing that the company is dedicated to providing a unique experience in its newest flagship store.
He added that the Japanese coffee market is growing and that Starbucks has to pursue originality in order to thrive amid burgeoning competition.
Changing Tastes
Morita Akira, a managing director at the Tokyo office of the Boston Consulting Group, says Starbucks has remained a leading coffee retailer by staying in tune with changes in the market. "With their emphasis on quality, Starbucks and other second-wave chains presented themselves as an antithesis to the first wave of mass-produced coffee," he explains.

With the trend now for third-wave coffee centered on single-origin, hand-drip brews, he says that the latest business model is about making the whole process from bean to cup an entertaining experience for all the senses. "The shorter time from roasting to serving, the better coffee tastes. Convenience store chains can deliver roasted beans to multiple outlets in a single day and are able to preserve a high level of quality. At the new Starbucks store, however, the roasting takes place in front of customers' eyes, offering the kind of experience convenience stores can't match."
(Originally broadcast in Japanese on FNN's Prime News Alpha on February 27, 2019. Translated by Nippon.com.)

Click here to view this story in Japanese.